Bengkulutoday.com, - Gubernur Bengkulu Rohidin Mersyah bersama jajaran Pemprov Bengkulu terus gencar melakukan literasi kesejarahan mulai dari membangun patung ibu Fatmawati di Simpang 5 Kota Bengkulu dan dalam waktu dekat akan menerbitkan biografi Fatmawati Soekarno dalam bentuk sebuah buku dan bisa diakses, dibaca dan diketahui melalui aplikasi iPusnas secara gratis.
Hal ini sebagai wujud kecintaan dan kebanggaan terhadap semangat perjuangan Ibu negara pertama Republik Indonesia Fatmawati Soekarno yang telah banyak mewarnai proses perjuangan terbentuknya Negara Kesatuan Republik Indonesia (NKRI) melalui Proklamasi Kemerdekaan RI 1945. Dengan demikian Film Layar Lebar pun saat ini sedang terus dilakukan design produksi sekaligus untuk memberikan literasi kesejarahan terutama bagi generasi milenial.
Film The Rafflesia Story "Fatmawati" saat ini memasuki tahap design produksi melalui PT. Trigrada Sakti Pravida dan Red Phoenix Picture melalui Producer Chalten F Tatroman yang tidak lain adalah Sutradara dari Teaser berjudul Fatmawati The First Lady of Indonesia Produksi tahun 2019.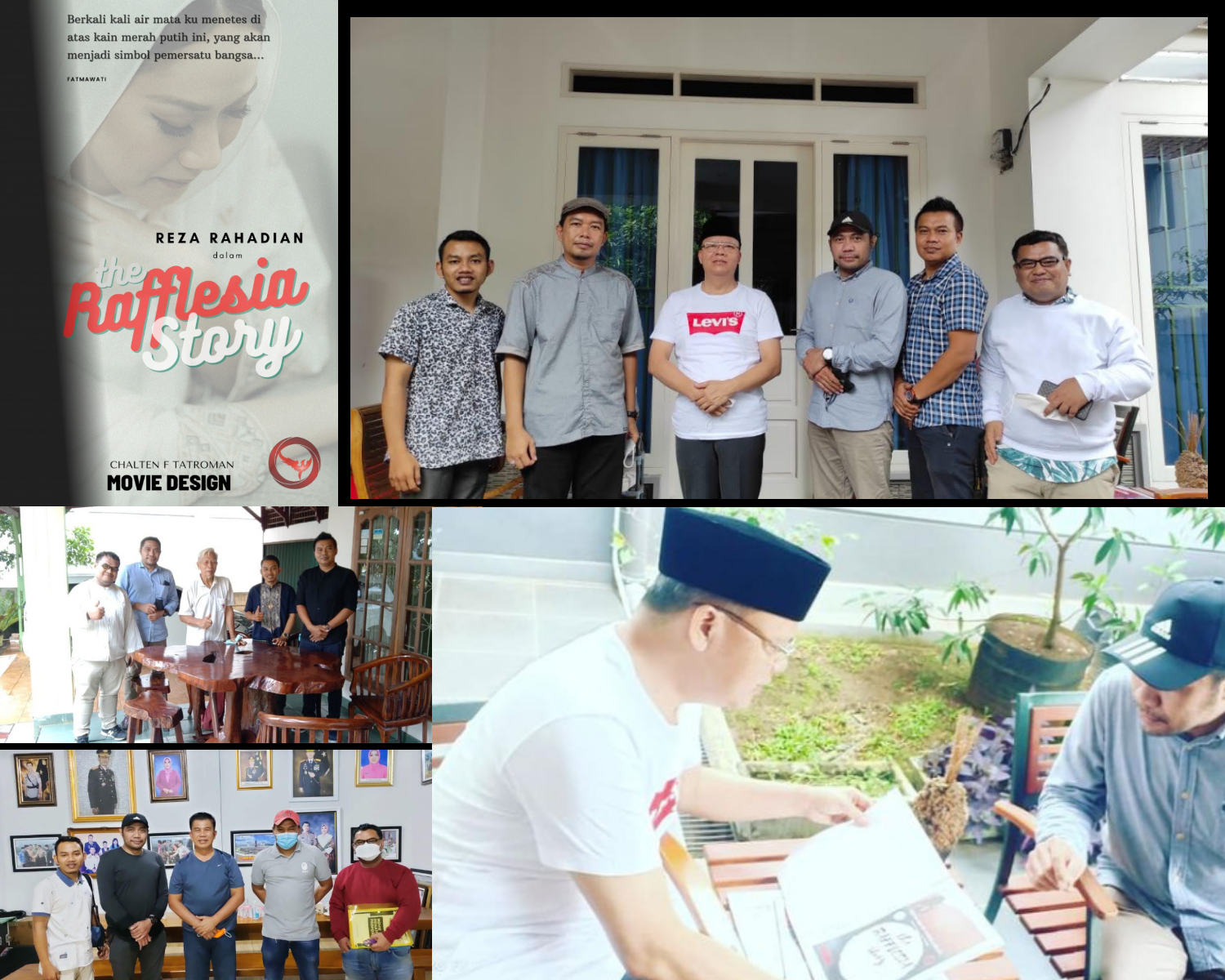 Producer Film The Rafflesia Story "Fatmawati" Chalten F Tatroman melalui Associate Producer Zainal Ariefin menjelaskan bahwasannya saat ini tim dari Red Phoenix sudah menyiapkan beberapa schedule atau tahapan untuk melakukan design produksi film.
"Kita sudah bertemu dengan Pak Gubernur Rohidin Mersyah dan proposal kita sudah didisposisi ke Dinas Pariwisata Provinsi Bengkulu, dalam waktu dekat kita akan mengirimkan surat terkait follow up dari proposal tersebut," ujar Zainal Ariefin yang juga putra asli daerah Bengkulu, Minggu (15/5/2022).
Tak hanya itu, Zainal Ariefin juga menjelaskan bahwasannya Tim juga sudah silaturahmi baik ke Mantan Gubernur Bengkulu, pengusaha, pejabat Bank dan legislatif yang ada di Bengkulu yaitu Gubernur Bengkulu Tahun 1996-2001 Brigjen Tni (Purn) Iskandar Ramis S.IP, M.Si, Mantan Kapolda Bengkulu yang juga PLT Direktur Kepatuhan Bank Bengkulu Irjen Pol (Purn) Drs. Supratman, Edwar Samsi Anggota DPRD Provinsi Bengkulu Fraksi PDIP yang juga Ketua Komisi IV DPRD Provinsi Bengkulu serta Anggota DPD RI 2 Periode Perwakilan Provinsi Bengkulu yang juga pernah menjabat Walikota Bengkulu H. Ahmad Kanedi, SH, MH.
"Jadi kita sudah silaturahmi sekaligus sharing terkait design produksi ini dan alhamdulillah diterima dengan baik serta banyak masukkan serta support yang kita dapatkan, dan dalam waktu dekat kita sudah menjadwalkan untuk silaturahmi kembali kebeberapa pengusaha dan pejabat yang ada di Bengkulu," ujar Zainal Ariefin.
Zainal Ariefin menambahkan tim nya sangat berterimakasih kepada Pemerintah Provinsi Bengkulu yang sudah sangat mendukung konsep design produksi film yang sudah ditawarkan. 
"Terimakasih Pak Gubernur, kami yakin dan bersemangat penuh film ini akan segera diproduksi tak lepas semua itu dukungan dari Pemerintah Provinsi Bengkulu melalui Dinas Pariwisata Provinsi Bengkulu," ujar Zainal Ariefin.
Diharapkan nantinya film ini akan ditayangkan di bioskop dan akan membawa nama Provinsi Bengkulu lebih dikenal.
"Karena ibu Fatmawati dilahirkan di Bengkulu maka lokus shooting nantinya akan fokus di Bengkulu dan saya berharap nantinya film ini akan membuat pariwisata di Provinsi Bengkulu lebih banyak pengunjung oleh wisatawan dan tentu akan menambah perputaran ekonomi di Bengkulu," harap Associate Producer.